The Endless Possibilities of Creativity in Nurse Coaching
A wellness retreat on a beautiful yacht in the Red Sea in Egypt… 
Sounds like the kind of thing you only see in movies or on social media, right? But what if we told you that Nurse Coaching could actually help make wild dreams like this a reality?
In fact, our graduate Nurse Coaches are doing some of the coolest work I've ever seen in Nursing.
   ✔️ Combining Nurse Coaching with holistic modalities like yoga, mindfulness, and other    healing practices.
   ✔️ Partnering with functional medicine clinics and alternative medicine providers.
   ✔️ Running their own businesses – creating maximum freedom and flexibility in their lives.
   ✔️ Opening wellness studios, retreats, and workshops.
   ✔️ Bringing coaching programs into hospitals and major organizations.
AND SO MUCH MORE!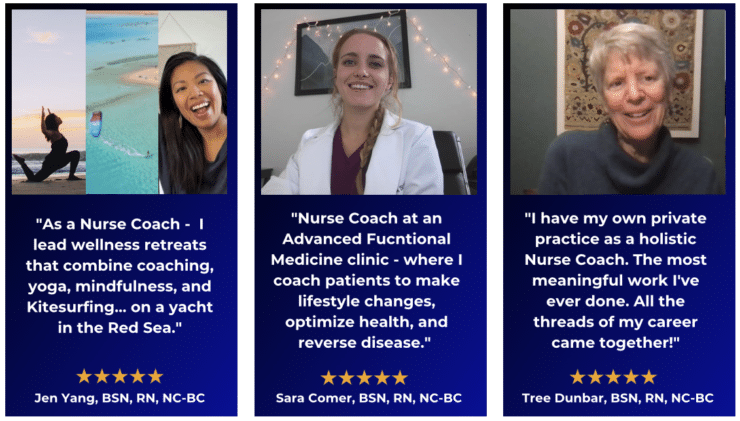 It's amazing to see what can happen when you think outside the box and allow Nurse Coaching to open up new professional dreams and possibilities. 
The Nurse Coach Collective is full of stories of Nurse Coaches who have transformed their clients' lives in incredible ways. 
They've helped people overcome physical challenges, prevent and reverse disease, navigate mental health struggles, find joy and purpose in life, and everything in between. 
And they've done it all with the power of Nurse Coaching.
If you're curious about what might be possible for YOU as a Nurse Coach, then join us for this  week's episode. 
And speaking of creativity, we'll be sharing some inspiring stories of Nurse Coaches who have taken their practice to the next level with a little bit of imagination. 
In addition to the fancy yacht retreats in Egypt, we are going to dive into how to mix coaching with the digital world, find some cool ways to help patients express themselves, and a lot more.
There is only ONE thing that can hold you back from realizing your full potential as a Nurse Coach. 
Want to know what it is?

Tune in and find out!
Join the Nurse Coach Revolution.
If you're looking for something more out of your nursing practice...
Become a Nurse Coach Today.
Pssst... Don't Miss Out!
The
2024 Nurse Coach Conference

is Happening.

Join hundreds of like-minded healers for a transformative 4-day, in-person event at an epic location.